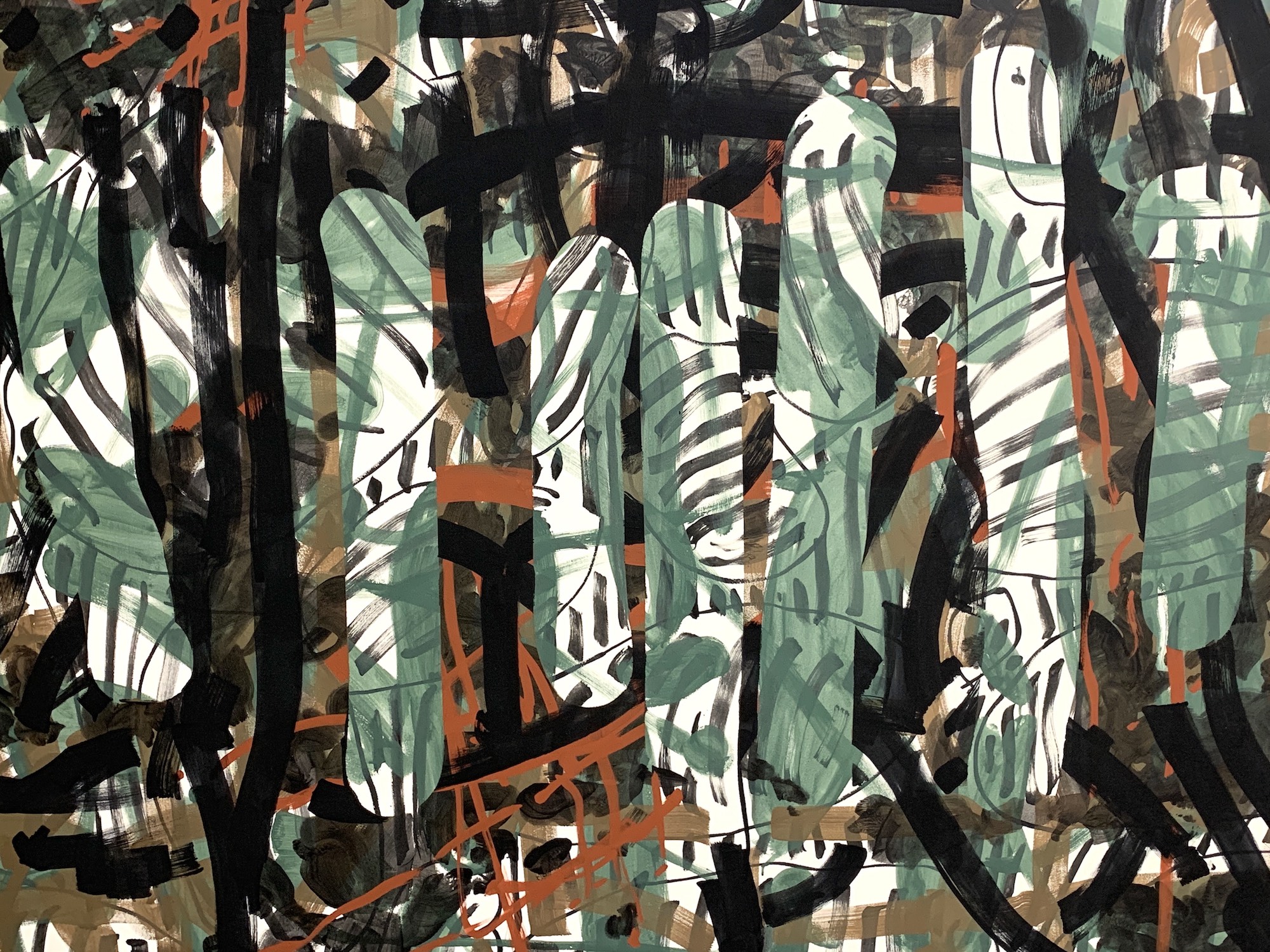 Tent PostsJeremy DePrez
May 22nd to July 15th, 2021
Sunny NY is pleased to announce
Tent Posts
, a solo exhibition by Jeremy DePrez. This is the fourth solo show of the artist in New York and his first exhibit with Sunny NY.
Tent Posts
is a continuation of DePrez's decade-long engagement mining the evasive, inanimate forms that populate his life and archiving them through the language of painting. The title of the exhibition references the Henri Michaux text that compiles a series of his wandering, fragmented, prose musings.
The artist is interested in using unlikely combinations of seemingly disparate objects as visual mediators: an article of clothing from an ever-growing laundry pile, a fragment of a drawing, fleeting sidewalk debris, quickly-formed clay models, or dish sponges. The qualities of these objects become oversized, warped and distorted reconfigurations of themselves through a myriad of artistic strategies DePrez employs. Enlarging, photographing, repeating, projecting, fracturing and distilling these objects in miniature culminate into paintings that intrinsically refer to their source material while outwardly aspiring to be something altogether different.
"Y.S.T.S" is built around a warped grid motif derived from a series of photographs the artist routinely takes of his clothing strewn together on the floor. DePrez recognized that the textile pattern of one of his shirts generated a similar effect to an Amsler grid - an image of a grid that functions as a diagnostic tool used to detect visual disturbances in patients with retinal disease. The crumpled, wadded and stretched fabric is not only a representation of the textile, but a representation of his own psychological relationship to his body and its inevitable failure.
The UFO series reveals the artist's fascination with the ordinary and the unknown. DePrez, a collector of UFO-brand dish sponges, is interested in the taming of UFO's from an out-of-worldly phenomenon to the terrain of cheap cleaning products. The concept of UFOs has permeated the cultural zeitgeist for decades and has been commodified and recycled extensively to the point of being a mundane, passé topic. DePrez takes that relationship and repackages it within rectilinear modules joined together and encased within textured impasto paint, fluorescent red accents and sharp yellow and green grids. The UFO's new form simultaneously refers to its domestication via color and form, and reignites the mysterious and perplexing nature of a UFO.
Other works like "Melange" and "Untitled (Tent Posts)" have a visual kenophobic bent. The artist creates a field that both hides and reveals concentric, mandala like motifs, painting primordial landscapes built up with an overgrowth of brush marks from end to end, and accumulated layers of drab browns, greens and blacks. Their irregular shapes not only reference their origins as scraps of paper but also their destination in a larger, more robust world.
The works in
Tent Posts
acknowledge the wandering, mercurial nature of the artist's practice. DePrez moves between several bodies of work at once, with varying methods of execution from one painting to the next. The artist notes that this way of working is "a reflection of our reality. Sometimes motifs repeat themselves over and over and sometimes they are singular, fleeting situations and I want my work to represent both of those things and whatever is in between." He goes on to say "that each painting props up the fabric of his reality and collectively generates a sort of 'tent' for the audience to ruminate in."
Jeremy DePrez was born in Portland, Me in 1983. Selected solo exhibitions include Boy Meets World, Galerie Max Hetzler, Berlin (2017), Mind Fold, Texas Gallery, Houston (2017), Tenet Zach Feuer Gallery, New York (2014). Selected Group Exhibitions include Shapeshifters, Luhring Augustine, New York (2016), Das Bild Hangt Shief, Galerie Max Hetzler, Berlin (2016), A Peg To Hang It On, White Flag Projects, St. Louis (2015) and The Shaped Canvas Revisited, Luxemborg & Dayan, New York (2014). He was a resident at the Chinati Foundation in 2015. DePrez lives and works in Brooklyn, NY.
---
SUNNY NY - 155 E 2nd St. New York, NY 10009